Free Early Access
Automate icebreakers for your team meetings.
Take 5 minutes to get to know teammates a little better each week and make meetings more fun.
Add to Slack
Build rapport in meetings
Make team meetings more fun and interactive. Review the teams' Icebreaker answers to learn more about your teammates.
Connect asynchronously
Remote team? Different time zones? Stay connected by adding automated weekly Icebreakers in a Slack channel.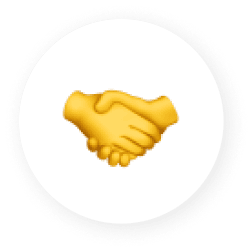 Prioritize team-building
Team-building can improve work ethic and innovation up to 10x. Easily promote those interactions with automated Icebreakers.
Easily create automated,
recurring Icebreakers
Tie them to an existing meeting or event, like a weekly team meeting, company town hall, or sales kickoff.
Shuffle through our most popular Icebreakers or create your own question
It's easy to set up, whether you want a little inspiration or already have an Icebreaker in mind.
Add to Slack
Skip the manual outreach and get their responses delivered on time
Teammates get your question in advance and can respond with text or photos. Reminders are automatically delivered to those who haven't responded.
Kick off your meeting by reviewing the team's responses together
Answers are revealed at the same time to reduce your notifications. Enjoy a much faster, richer experience than just going around the room.
Add to Slack
Easily automate Icebreakers to establish a fun team activity
It's easy to set it and forget it. Add an Icebreaker to a channel and we'll automatically send a new question every week for the team to answer.
Get started in less than 5 minutes
Get free early access today. Simply install and add Icebreakers to a Slack channel.
Add to Slack