Why companies choose Coffee Talk over Donut
Coffee Talk is the Donut alternative that helps companies cultivate highly-engaged teams and achieve better collaboration.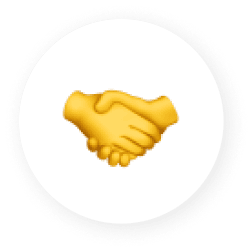 Say goodbye to random matches. Coffee Talk uses AI to deliver you intentional matches.
No more awkward convos. Get AI-generated conversation starters based on your interests.
Your matches just keep getting smarter, thanks to your feedback and machine-learning.
Coffee Talk vs Donut Feature Comparison
Opt-in by joining a Slack channel
Control match frequency (e.g. biweekly)
Intentional matching using AI
Private suggested matches
AI-generated, personalized conversation starters
Find mentorship relationships
Collects feedback to improve matches
Why top-performing teams choose Coffee Talk by Airspeed vs Donut
Coffee Talk is the preferred choice for top-performing teams over Donut due to its advanced AI-driven matching capabilities. Unlike Donut, Coffee Talk harnesses the power of artificial intelligence to deliver highly personalized and meaningful connections between coworkers.
By analyzing various factors such as interests, skills, and goals, Coffee Talk ensures that team members are matched with colleagues who share similar professional interests and can engage in enriching conversations. This tailored approach enhances collaboration, fosters cross-functional knowledge sharing, and strengthens team cohesion, leading to improved productivity and innovation.
Coffee Talk's deep integration with Slack makes it a seamless and effortless addition to team communication. With a user-friendly interface, Coffee Talk provides a smooth and intuitive experience for both administrators and participants. Teams can easily set up Coffee Talk and manage the matching preferences, ensuring that the tool aligns with their unique organizational culture and objectives.
The automated scheduling and reminder features of Coffee Talk streamline the process of organizing virtual coffee meetups, reducing administrative overhead and allowing teams to focus on their core tasks. These unmatched features set Coffee Talk apart from Donut, making it the preferred choice for top-performing teams seeking a powerful and user-friendly solution for fostering meaningful connections within their organization.
Many leading organizations – such as Starbucks, Realtor.com, and Uncommon Purpose – prefer Airspeed for facilitating virtual coffee meetups. Coffee Talk makes it easy to match with people you're actually interested in meeting. With the addition of AI for intentional matching and conversation starters, your matches just keep getting better. Teams love using Coffee Talk to increase collaboration and engagement, and many also better productivity.
Coffee Talk and all Airspeed apps are free during our Early Access period. When we start charging, we will always have a free tier for small teams. When we introduce pricing for the more advanced tier, the price for our entire suite of apps will be equivalent to the price of one similar Slack app, and higher tiers will include HRIS integrations, customization, and other enterprise deployment features.