If you've been working remotely, chances are that you're all too familiar with that *knock brush* sound of Slack messages coming in.
Slack is one of the most common digital tools for hybrid workplaces. In fact, nearly 80% of Fortune 100 companies use Slack as their digital HQ.
But this collaboration tool can only be successful if people leverage it the right way. With a ton of features, apps, and bots available, navigating Slack can be quite difficult for beginners.
Using our in-house expertise from working with hybrid and fully remote companies like Atlassian, Adobe and Electronic Arts, we'll break down how to use Slack effectively, all the apps you need, and how to help ramp up new users quickly.
What is Slack and how does it work?
Designed to replace email, Slack is a business messaging app that connects people and helps them share information they need easily.
Whether you have people working out of your San Francisco office or from an island in Indonesia, Slack helps ensure everyone's on the same page by unifying all your communications.
In fact, you can also use Slack Connect to work with other organizations, external stakeholders, or contractors. For instance, if you're running an agency, you can connect with your clients in your Slack workspace and share timely updates instead of going back and forth on an endless email thread.
And in case you've been wondering, Slack stands for "Searchable Log of All Communication and Knowledge."
Slack Basics for Workspace Admins
While small organizations typically have one workspace, larger organizations can choose to have several.
If you don't have a workspace set up already, here are all the steps. Follow along to create a workspace in under 5 minutes.
1. To create a new workspace, go to this link and enter your business email.
2. You'll receive a 6-digit code in your inbox.
3. Once you enter the code, click on "Create a Workspace".
4. You'll be asked to enter the name of your workspace – the name of your company or team.
5. Then, enter your name and upload your profile photo.
6. Invite team members either by importing them from your Contacts, copying the invite link or typing in their email.
7. Finally, enter what your team is working on right now.
For instance, if you type "blog," this becomes a new channel on Slack (this is how Slack organizes your conversations in dedicated spaces)
You can see what the end result looks like here:
Congratulations! You've successfully set up your first workspace on Slack. Once users accept the invite, they'll be shown a series of helpful onboarding prompts to create their profile and sign in to their workspace.
In case you need to sign in to your existing workspace on a different device, your Slack domain is your <workspacename>.slack.com — enter this in your browser and you'll see the log-in page.
If you want more options to manage your team and the workspace settings, check out Slack's detailed help guide.
Getting around Slack: What you need to know
Slack's desktop version is the best way to get the most out of it. The mobile app is great, but some features are only available on the desktop.
Slack has a really helpful quick-start video to help you get situated. Watch it here.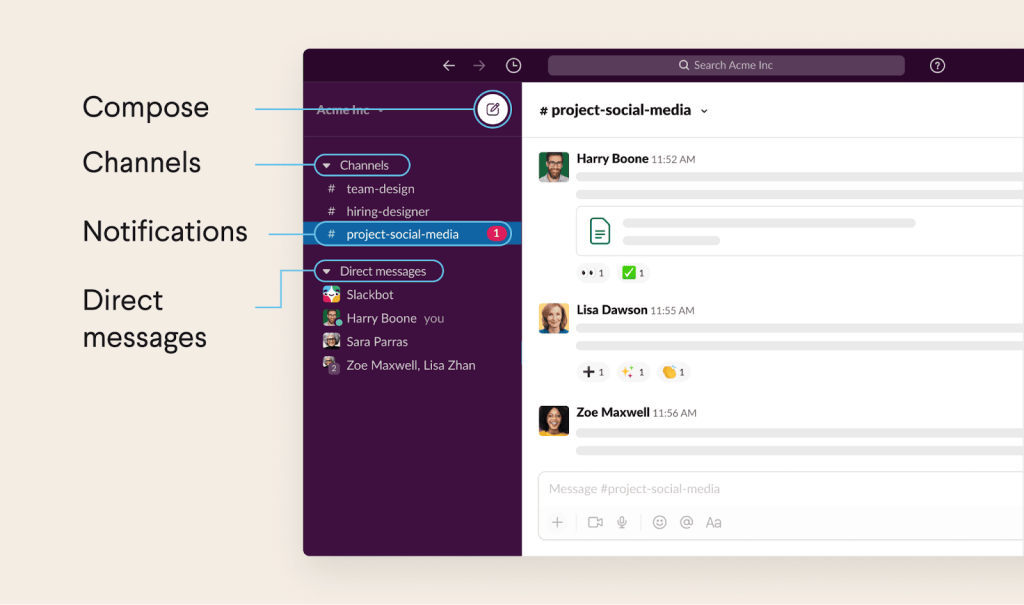 The sidebar is where all the action is — you can compose a new message, create a new channel, view notifications, and send direct messages.
The latest version of Slack has three new options in the sidebar –
Canvases — a new way to help teams organize and automate their projects inside Slack
Files — an easy way to search for all shared files within your workspace
Browse Slack — a dropdown list to easily access all installed Slack apps, view unread messages, and see all created channels. This list can be customized based on your preferences.
Slack communication 101: Features for more effective conversations
Effective communication is key to creating transparency and supporting asynchronous work. And Slack offers a bunch of features to help you do just that.
Direct Messages
Use DMs when you need to chat with a colleague or team member one-on-one.
Channels
Channels are best for 1:many conversations. Slack creates 2 channels by default when you create a workspace — #general (for company-wide announcements) and #random (to share non-work related content).
You can create channels for each team, project, quarter — whatever makes sense for your business. And you can make them private, so only invited members can see the conversations within it.
Threads
If you've been on Twitter or have used Meta's app Threads, you know how a thread works. These are available in DMs (as well as channels) and help keep the chats streamlined. If there's any information that should be shared with the wider channel, there's an option to send that message to the entire channel as well.
Group DMs
If you need to have a conversation with 2 or more people, but it doesn't necessitate the creation of a channel, you can add everyone to a group chat.
Mentions
You can @someone's name to mention them in a channel and check on a project's progress, or publicly share specific information that also keeps everyone looped in.
If you want to address a wider audience and/or need help with something, you can use @here to ping everyone online at the same time. You can also use @channel to notify everyone in the channel.
Emojis and GIFs
Emojis play an essential part in keeping Slack uncluttered.
Let's say you want to ask if everyone on the team has completed their weekly review. What would you prefer? A bunch of "yes'es" cluttering up the thread, or a simple thumbs-up emoji?
You can even create custom emojis on Slack that help express your team's culture.
The same goes for GIFs. The GIPHY Slack app helps everyone have some harmless fun and makes work more enjoyable.
Slack etiquette for users: What we've learned
TL;DR – Treat Slack like you would any other channel of business communication. Write for clarity, use public channels more often than DMs, and don't say anything that you wouldn't want your employer to see.
Don't send people hello/hey with zero context:

Recipients get notified every time you send a message, and a solo "hello" only creates an unnecessary distraction.
Of course, you can say hey – but let that be your opening line. Draft a message that explains what you need from a peer or team member clearly.
Tip: Pressing "Shift+Return" creates a new line break.
Format for skimmers:

Long, clunky paragraphs are hard to read and take longer to respond to. Break up your message with line breaks, bullets and adequate spacing. If you have more time, edit your message for more clarity.
Learn your emojis to avoid follow-up messages:

If you're not sure which emojis to use, here are some straight from the source. You can also add these to your company handbook so everyone's on the same page:
Schedule messages to avoid sending them during off-hours

Slack allows you to schedule messages so they're sent when users are active, which is a great feature when you're collaborating with international and remote workers.
Of course, the built-in DND feature works too. Employees can set up their working hours so they aren't bothered by after-hours notifications. If you do need some urgent help, you can choose to notify them anyway (use this sparingly)!
Don't ask for information you can find yourself

Slack helps you search for conversations and files in DMs and channels using various filters.
If you can't find what you need, refer to your company's handbook, or ask your team lead to find the point of contact you should tag instead of notifying everyone in a channel.
Use huddles to resolve issues quickly

If you find yourself going around in circles on a problem, you can use the huddle feature to jump on a call on Slack – either in a DM or on a channel. You can share your screen, share files and even turn your video for better collaboration.
Huddles are also great if you want to increase your productivity by practicing body doubling.
Resort to public channels

DMs are great, but you may find yourself answering the same questions over and over again. If there's something that a wider audience can benefit from, share it in the relevant channel, or consider sending a message in #general.
Don't ignore availability statuses

A person's Slack status can indicate if your colleague is doing deep-focused work or is in a meeting. You should wait for their status to change before you reach out to them. If you really need to get a hold of someone for a quick answer, consider sending them an email instead (yes, we see the irony here)!
While these are general guidelines, you can set your team up for success by creating a company-wide doc on how to use Slack effectively, what your custom emojis mean, and set expectations around responses.
Pro Tip: Have your team create a personal user manual to make it easier for your colleagues to understand everyone's preferred communication styles and methods.
Install Slack apps: The best way to keep people engaged, productive, and happy
Pre Read: What are Slack apps?
Slack apps are the best way to bring data from most (if not all) business apps in a single place. Since "Slack is where work happens," why should employees have to keep switching between multiple apps and create disruptions in their workflow?
P.S. We handpicked our favorite Slack apps to help improve productivity, as well as curated employee appreciation tools (including Slack apps) you might like.
To start, you can integrate the business apps you already use, like Zoom, Asana, or Google Drive. If you can't find it on Slack's App Directory, you can still use Zapier to connect the app with Slack or use an API.
You should ultimately have apps that support:
HR initiatives
Company culture
Employee engagement
Project collaboration and management
Visual collaboration
File sharing and management
Customer support
Analytics
Design reviews
Employee wellness
Continuous learning
Slack apps that help keep employees engaged and happy are extremely crucial, since they directly impact productivity.
But there are a ton of standalone apps in this category that don't communicate with each other. The siloed data make it difficult for People Ops and HR leaders to clearly see how employees are doing and roll out effective retention programs.
To combat this problem, consider adding a suite of apps (like Airspeed's) to your Slack workspace.
Meet Airspeed's Slack apps
Airspeed's suite of Slack apps help you send kudos, make special occasions memorable, and break the ice.
These Slack apps use generative AI to craft thoughtful messages so you can scale employee appreciation and never run out of nice things to say.
BTW, you can download these apps for free for a limited time. So give it a shot and let us know what you think (our customer support is phenomenal)!
You'll never forget another work birthday or anniversary with this Slack app. Celebrations by Airspeed keeps track of every date, reminds everyone to sign a virtual card, and automatically delivers it to the recipient.
Instead of being matched with colleagues at random for watercooler chats, Airspeed's Coffee Talk uses AI to make intentional matches based on your profile and specified interests. And if you're not sure what to say, the native AI integration generates talking points for you to prevent any awkward silences.
Want to make team meetings more fun? Start using Icebreakers on auto-pilot. Create an icebreaker question (or pick one of the popular ones) and tie them to recurring meetings. Everyone gets a reminder to answer the question and you can spend the first 5 minutes going through the responses.
Introduce new hires to your team and company with Airspeed's Intros. Create a template (or choose questions we've curated) and we'll automatically prompt new members in a channel to answer it.
See where people are located so you can make plans to meet up with teammates nearby, share travel plans for organizing meetups, and find the best time to schedule company-wide meetings based on everyone's time zones.
Shoutouts by Airspeed is the easiest way to send kudos and recognize individual contributors, teams, and different departments for stellar work. You can thank your peers or nominate them to leadership so they get the recognition they deserve in a company-wide channel.
Managers can use AI to draft thoughtful messages and recognize their team's effort on a consistent basis.
All aboard the Slack train. What's next?
Once you start using Slack, you'll receive information about new feature releases and tool tips (if you've subscribed to the mailing list) to help you make the most of this popular communications platform.
You can also look up Slack tutorials and videos, or reach out to their support team for help.
But you won't always have to take a top-down approach to increase the app usage — your users will find new ways to use the platform. They'll find apps and bots to install and set up automation to make their work easier, eliminate repetitive tasks, and connect with coworkers.
And if Slack doesn't grow on you, there's always email. 😊
Maximize your Slack experience from Day 1. Elevate your employee experience with Airspeed's suite of powerful Slack apps. Install now for a more productive and enjoyable workplace!